Top 3 Industrial IoT Implementations in Manufacturing
What if you could use advanced analytics to envisage events before they happened, use real-time actionable insights to increase production and help your operatives know the right decision to take at any given time? Industrial IoT is driving such capabilities enabling unparalleled operational efficiency, productivity, and performance like never seen before. Industry experts have predicted that by 2020, IIoT will be a $225 billion market that will have huge impacts in modern manufacturing including increasing efficiency, fostering streamlined maintenance, asset monitoring and more to create a new age of industrial growth and competitiveness.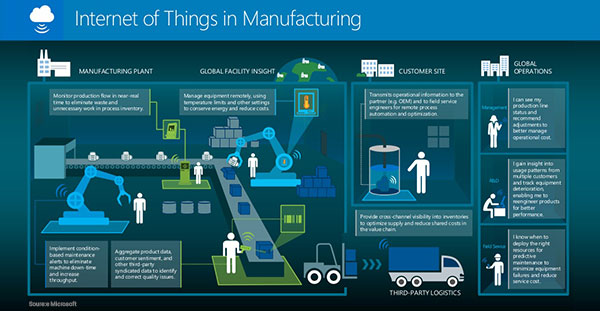 Manufacturing industry leaders investing in IIoT are reporting benefits, including efficient and increased productivity according to a TATA Survey. It's thus crucial to note IIoT use cases will progressively expand in future. Here's a compilation of the top three industrial IoT use cases in Manufacturing.
Real-time Asset Monitoring

Manufacturing companies are using IoT assets to connect machines and systems together – a paradigm shift that enables real-time asset monitoring. Coupled assets provide the opportunity to monitor equipment in real-time for reliability, compliance, and safety. Asset monitoring is heavily used in remote manufacturing where sensors help tracking production processes and send status to the right personnel. It also offers a platform to manage and control assets for enhanced operation and production; enabling proactive and timely manufacturing decisions. Asset tracking in manufacturing allows easy status monitoring of key equipment and final products; to augment logistics, sustain inventory and prevent quality issues.

For illustration, read how a leading US-based independent AMR manufacturer deploys Smart Metering & MDM solution for water utilities to monitor the smart meters in real-time. Saviant's IoT consultants architected this robust IoT solution using Azure IoT platform, which connects 50,000 smart meters and handles billions of data. The Smart metering solution not only helped in saving billions of gallons of water, but also in accurate billing to improve revenues & real-time visibility of water consumption, leakage, wastage, theft, meter health and many more operations-efficiency KPIs. Take a quick glimpse of the robust architecture of this Smart metering solution. Take a quick glimpse of the robust architecture of the solution.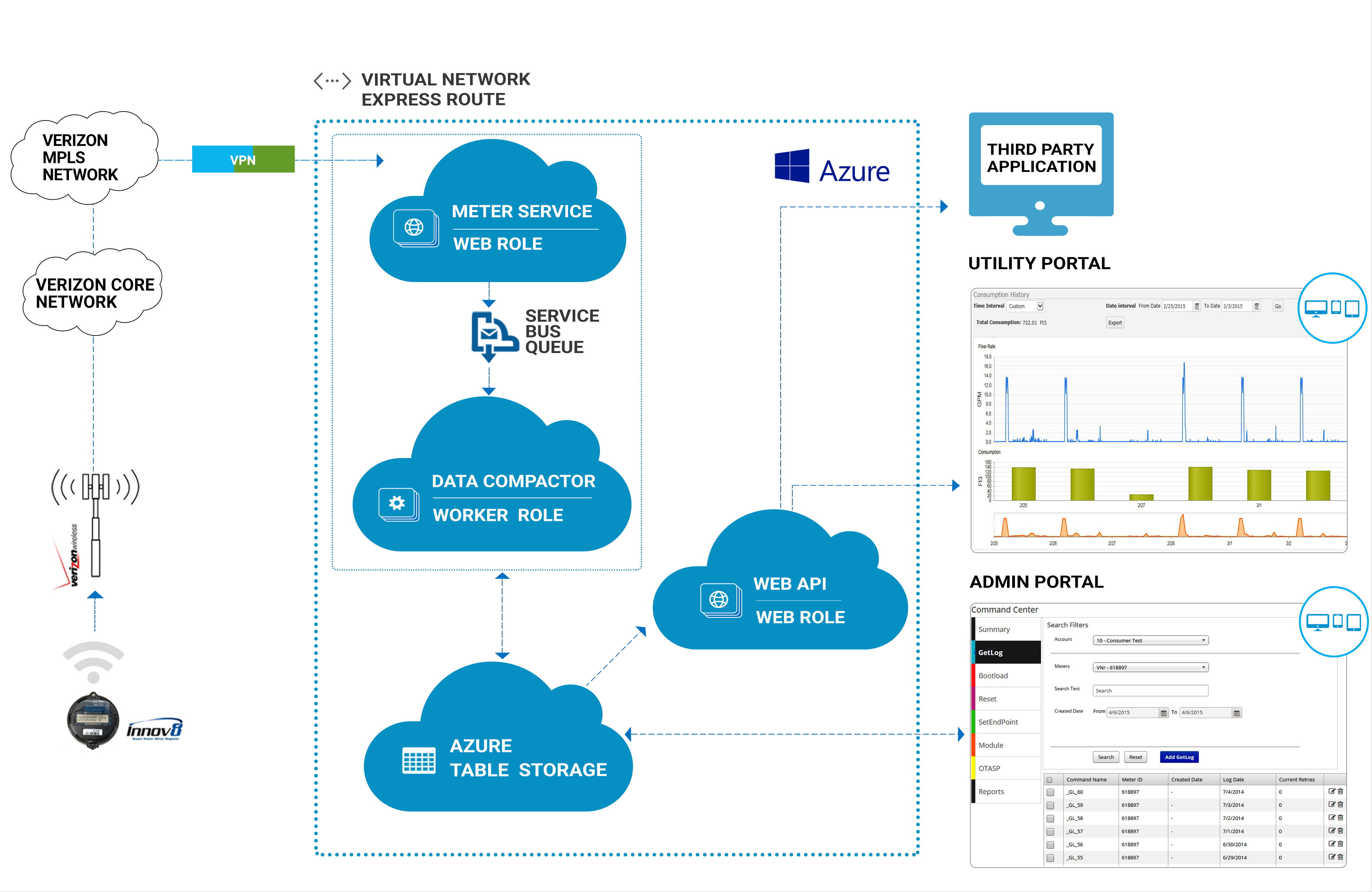 Connected Operational Intelligence

By connecting machines/equipment, manufacturers can generate intelligent networks that communicate and coordinate with each other autonomously with little involvement by operatives. With this use case, organizations can amass and contextualize data from remote manufacturing assets and systems into actionable applications. Thus, providing proactive views into key performance indicators thereby enabling quicker problem identification to improve operational performance. Additionally, through IIoT, companies can now connect to disparate operational data centers and unify them to enable real-time data visibility across assorted manufacturing systems. IoT enabled machinery thus enables connected operational intelligence, which transmits real-time insights to manufacturing stakeholders enabling them to remotely manage factory units.

For illustration, read the success story of an American Manufacturing leader that goes-cutting edge with scalable & secure industrial IoT platform built using Azure IoT platform. The high-end industrial platform handles multiple enterprise gateways connecting over 3000 end-devices that record temperature, pressure and humidity data. This data is then utilized to derive critical-business insights and actionable intelligence for the teams to improve operational efficiency. Take a quick glimpse of the robust architecture of the IIoT solution.
Predictive Maintenance of Assets

Millions of dollars go into machine operational and maintenance costs. However, if equipment maintenance is done on time, it would prevent pauses on production processes. And if downtime could be detected before it knocks, Manufacturing companies can have substantial decrease in operational costs. The use of sensors, data analytics, and cameras in IIoT allow machines to predict failure before it occurs. Such detection helps create strategic maintenance timelines that can be performed only when needed – before glitches occur – think repairing a crack in the dike. Manufacturers leverage IoT to include vibrant, competent, and automated manufacturing processes, where maintenance schedules are autonomous rather than relying on undependable maintenance personnel. Thereby, triggering better-planned maintenance processes which promises huge cost savings in turn reducing equipment failure and increasing machine lifetime.

For illustration, check how a world's leading Manufacturer and Energy solutions provider unlocks data to predict outcomes and prevent failures of wind turbines. Wind Farms generate humongous volumes of structured and unstructured WTG data, which is used to trigger an alarm in case of any error, which includes mechanical part failure, generator malfunction, gear box failure, etc. With the intelligent solution developed by our Saviant teams, the Wind farm operations team can take quick & intelligent actions to minimize asset failures and prevent operational errors in future. Take a quick glimpse of the robust architecture.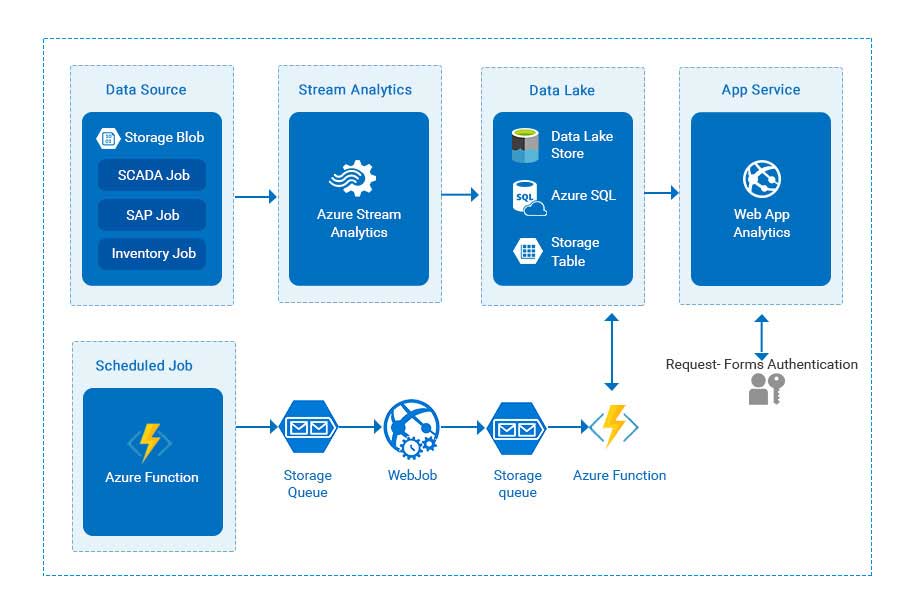 Conclusion
Industrial IoT has the ability to radically transform manufacturing. As the global market and industry dynamics push manufacturers to reconsider operations, smart manufacturing powered by IIoT-driven data analytics is essential. The truth is that, more and more data will be created from increasingly connected equipment systems and that to realize critical & valuable actionable insights thought IIoT is limitless.