3 Azure Migration tools to kick-start your Hybrid Cloud Journey
Since the last decade, Cloud computing has swiftly become one of the most significant and widely adopted IT technology. Every Enterprise is migrating its business from a traditional environment to the modern cloud one. Cloud technology has significantly changed the way of doing business, by offering potential cost benefits, increasing efficiency, and offering flexibility to adapt to the ever-changing business needs. In other words, cloud computing is driving enterprises to embrace digital transformation.
Companies using SaaS to optimize their business mentions that, hybrid model had made a significant effect of over 31% on their performances. Whether it is an acceleration in the development of software & testing, protecting data with backup, taking the advantage of low-cost data storage & geographical distribution, or enhancing the availability of business, hybrid cloud is becoming the prominent choice for all enterprises.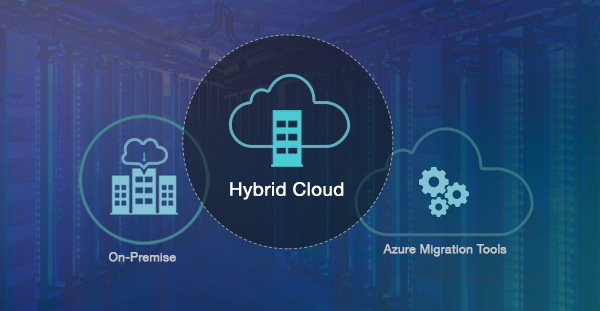 Microsoft Azure: Perfect for Public, Private or Hybrid Cloud
Microsoft Azure is one of the best cloud platforms to set-up public, private or hybrid cloud environments. It offers SaaS, PaaS and IaaS to help businesses rapidly build, deploy and migrate their data, apps or infra, from on-premise or from one cloud computing service to another seamlessly. It also offers specialized Azure migration tools to reduce risk while serving third-party settings in public, private or hybrid environment. Overall, Microsoft Azure tools and resources are known for security, scalability, and reliability. Azure works best with hybrid cloud settings and is perfect for critical data access from different locations.
Read how
an Enterprise migrates its legacy system to Microsoft Azure in IaaS (Infrastructure as a Service) model to make their credit card payment process stronger. With the successful Azure migration solution, the enterprise was able to add extra layers of security, achieve zero downtime & zero data loss and cut costs by 75%.
Microsoft Azure Migration Tools Makes Hybrid Cloud Simple
With the challenges due to existing on-premise infrastructure environment, like scalability, high availability, reliable backup storage, and disaster recovery, many enterprises are opting for Hybrid cloud approach. This would allow them to realize the benefits of cloud and their existing applications & infrastructure. Today, Enterprises can utilize the available Azure migration tools to tap into the power of hybrid cloud model seamlessly. Let's have a look at the latest three Azure migration tools.
Free Cloud Migration Assessment

This Microsoft Azure tool helps businesses:

Locate varied servers present in the IT setting
Provision of detailed reports inclusive of cost of using Azure tools
Analyzing the configurations of the businesses' hardware

Azure Hybrid Use Benefit

This can be simply activated in the Azure Management Portal and is cost-effective and provides easy cloud-related services. It helps businesses save upto 40% with Windows Server License inclusive of Software Assurance. Moreover, it saves extra bucks in the virtual machines of Windows Server on Microsoft Azure.

Azure Site Recovery

This Azure migration tool helps businesses to:

Migrate Virtual Machines (VM) to Microsoft Azure
Move applications running on VMware, AWS, Physical Servers and Hyper-V
Provide support to tag Virtual machines under the Azure Portal
Configuration of ASR to use Hybrid Use Benefit tool with the PowerShell
Conclusion
With the use of Microsoft Azure tools, adopting hybrid cloud capabilities have become consistent and flawless. Azure facilitates in reducing the complexities of moving information to the cloud and allows the flexibility to choose an optimal location for each application or data. Therefore, enterprises need to have a careful planning and perfect deployment strategy, while considering moving some or all applications to cloud using hybrid approach. This would result in a cost-effective way to begin their cloud journey.
Globally, 90% of Fortune 500 companies are already using Microsoft Azure to power their business. Whether you are pushing the existing infrastructure to cloud, migrating legacy applications to cloud, deploying business-critical applications on Azure, or development of web & mobile apps; Enterprises need to define a strategy that best fits their specific requirements. Azure consultants with experience in leveraging Azure cloud services can help such enterprises in smooth transition of their business to cloud.