Microsoft recognizes Saviant's Utility Industry solution to spot at AppSource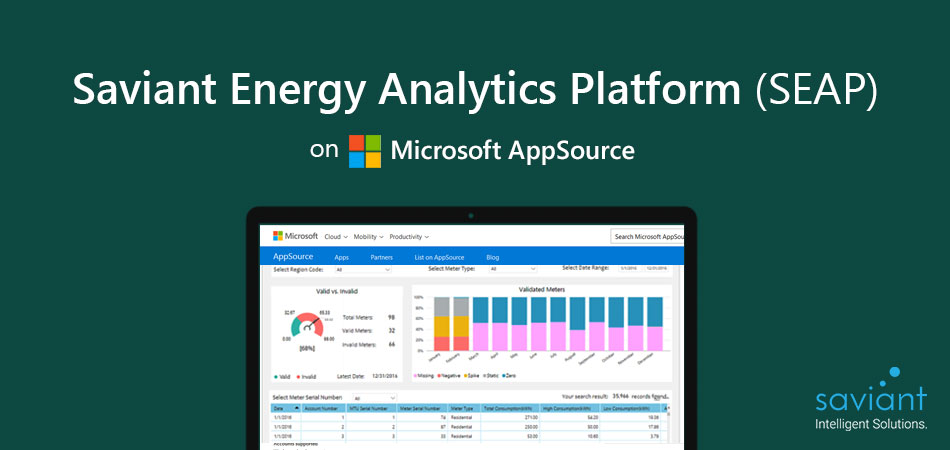 Pune, India, May 8, 2017 – Saviant announced that its first industry solution, Saviant Energy Analytics Platform (SEAP) for Utilities is now on Microsoft AppSource, an app marketplace for enterprises to find SaaS solutions delivered by Microsoft and its partners. SEAP is a first of its kind and the only Analytics platform for Utilities (across Water, Electricity & Gas), which provides real-time & future insights into their asset health, distribution & consumption patterns, predictive health monitoring, and preventive maintenance.
Today, Energy & Utilities have SCADA systems and enormous volumes of data coming-in from large number of Water, Electricity and Gas meters, multiple MDM and ERP/CRM systems. However, it is becoming increasingly difficult to manage such a multitude of data systems, which doesn't allow one view of the energy data. That makes it practically impossible for utilities to perform Energy analytics for distribution management, operational intelligence, outage management, and predictive intelligence to create awareness and enforce energy conservation.
SEAP has been developed as an intelligent analytics platform, that can ingest SCADA/MDM/CIS/Billing data of any energy type such as water, electricity or gas. It allows Utilities to monitor & predict future demand, consumption patterns, detect anomalies and take informed decisions proactively. It can easily handle data from 50 million+ devices, with data volumes of more than 1 million records per minute, while providing high performance analytics on 100 bn+ data records.
SEAP has been designed to help Utilities conserve energy and promote consumer awareness, by enabling intelligent actions and insights from their existing energy distribution and energy consumption data. Now, SEAP is on AppSource, providing live experience of business value to Enterprises.
About Saviant
Saviant builds intelligent solutions for asset-intensive and field-force driven enterprises. We are the trusted technology advisors for their Analytics, Internet-of-Things, Cloud & Mobility initiatives for the customers across Energy & Utilities, Construction & Engineering, Transportation & Logistics and Field Mobility. Our teams define their technology road-map & implementation strategy to transform and modernize their business using multi-tenant SaaS applications, Native Mobile Apps, Big Data Analytics, IoT solutions & Azure PaaS Development.
About AppSource
To help businesses find the right apps that work well with their existing products & technologies, Microsoft has launched the AppSource marketplace that showcases a growing number of SaaS apps that deliver business value on top of Microsoft Solutions such as Cortana Intelligence, Power BI, Dynamics 365, Office 365, and more. It is the place where Microsoft partners can list their SaaS app, add-on, or content pack that works with the Microsoft platform making them available for the enterprises to find, experience the free trial, and get the right app.