Saviant CEO as an Industry Speaker and Panelist at AclaraConnect 2017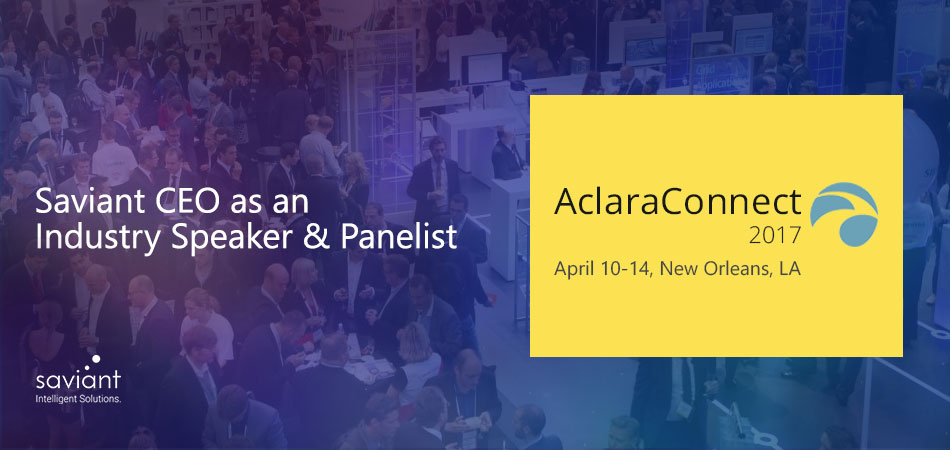 Pune, India, April 5, 2017 – Saviant, a preferred Data Analytics & Intelligent Solutions partner for Energy & Utilities, will participate at the AclaraConnect 2017. Mr. Anubhav Dwivedi, CEO and founder of Saviant, is one of the industry speakers and a panelist at AclaraConnect 2017 to be held on April 10 – 14, 2017 in the New Orleans, LA.
AclaraConnect is one of the largest conferences of Utility industry bringing together more than 1,000 executives and representatives from electric, water and gas utilities around the world. With its 'Be A Game-Changer theme,' AclaraConnect will explore how cutting-edge technologies can help Utilities plan and thrive in this digital transformation landscape.
Anubhav will be speaking on, "The Latest Industry Trends & Performance Opportunities for Real-Time Analytics" addressing the utility professionals, new technology consultants, analysts, vendors, and thought leaders. He will be discussing on the need of intelligent solutions for Real-time data management to predict outcomes/ failures, asset health monitoring, remote asset management, and proactive consumer engagement. These analytical solutions enable key operational insights & drive real-time actions for – Outage analysis, Voltage Management, Asset level Load analytics, and Leak detection/ Unauthorized consumption.
Other speakers at AclaraConnect include key personnel from Aclara, leading utilities, the Department of Homeland Security, J.D. Power, the Smart Grid Consumer Collaborative, and an executive panel comprising leaders in the water, gas and electric industries.
About Saviant Consulting
Saviant is 'The Intelligent Solutions company' and the Gold Cloud Platform & Gold Data Analytics Partner for Microsoft. We have pioneered innovative solutions leveraging Cloud, Mobility, Analytics & IoT to help Enterprises transform and modernize their business. We work with enterprises globally to define their technology road map & implementation strategy using multi-tenant SaaS applications, Native Mobile Apps, Big Data Analytics, IoT solutions & Azure PaaS Development.
About AclaraConnect 2017
AclaraConnect 2017 is one of the largest and most anticipated conferences of Utility industry. A smart infrastructure environment is the new "gold standard" for utilities and Aclara is committed to being the global leader in this space. This 9th Annual Client Conference of Aclara attracts not only Aclara Clients but also Utility industry professionals to focus on the latest leading-edge developments in innovation, technology, learning and business development.
For more information, please visit AclaraConnect 2017