Saviant at Microsoft Inspire 2017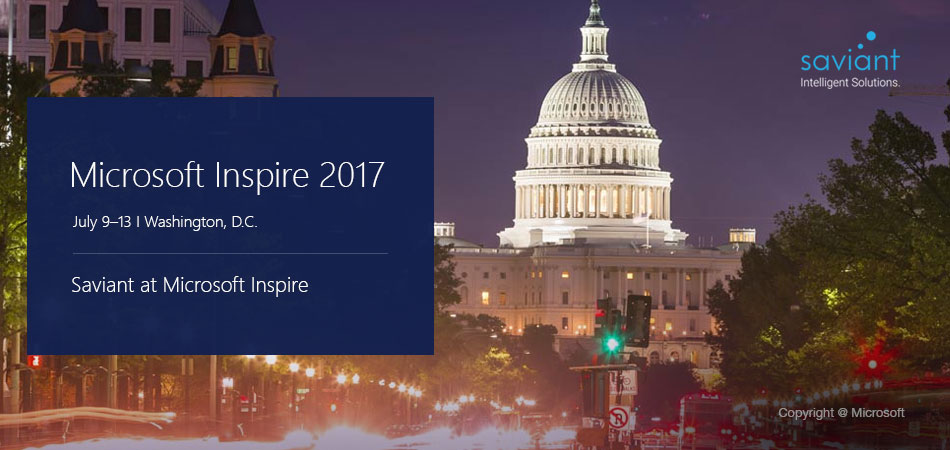 Pune, 16th June, 2017- When it comes to meeting the right people in the right place, bigger is better. Microsoft Inspire, the biggest partner celebration, will be held form July 9 to July 13 in Washington, D.C. It is an annual conference held by Microsoft Corporation for its partner community.
Microsoft Inspire provides a week full of networking, learning and collaboration for over 16,000 visitors from around the globe. At Microsoft Inspire, partners will find an opportunity to form partnerships that have the power to evolve digital transformation and better serve customers.
The event gives access to latest revelations from top Microsoft leaders, meet with fellow Microsoft partners, and take part in face-to-face conversations with technology leaders. No other event offers the breadth and depth of experience that Microsoft Inspire offers when it comes to expanding network and connecting with peers.
The CEO and founder of Saviant, Anubhav Dwivedi and the CTO, Sujit Karpe will be attending the conference from July 9 to July 13 in Washington, D.C, to interact face-to-face with business leaders from around the globe, create connections with great companies, and learn how to provide the best solutions for our customers.
About Saviant
Saviant is the preferred Data Analytics & Intelligent Solutions partner for leading Asset-intensive and Field-force driven Enterprises across industries like Energy, Utilities, Logistics & Construction. We are the trusted Technology Advisors and Implementation Partners for their strategic initiatives around Data Analytics, IoT, Cloud & Mobility. Our teams enable intelligent actions & accelerated business outcomes for our customers across the globe, by defining their Technology Roadmap & Implementation Strategies.
Saviant is a Microsoft Gold Partner for Cloud Platform, Data Analytics, Application Development & Xamarin Premier Consulting Partner.
[Reference – Microsoft Inspire 2017]