Saviant launches its first Industry solution, at the Microsoft World Partner Conference 2016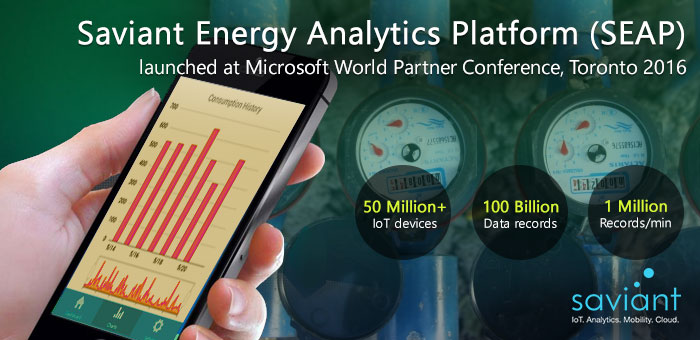 Toronto, Canada, July 11, 2016– Saviant Consulting has launched its first Industry Solution, an Energy Analytics Platform for Utilities, at the Microsoft World Partner Conference held at Toronto, Canada.This solution is a first of its kind and the only Analytics platform for utilities, built using Azure platform and Cortana Analytics suite.
Today, it is very difficult for utilities to create one view of the energy data coming in from all the different meter devices and also their respective MDMs. That makes it practically impossible for utilities to provide Energy analytics on their own data in order to send alerts and notifications to the consumers to promote awareness and enforce energy conservation.
Saviant Energy Analytics Platform (SEAP) has been designed to help utilities conserve energy and promote consumer awareness, by enabling intelligent actions and insights from their existing energy distribution and energy consumption data. It has the potential to reduce Energy distribution costs of utilities by up to 20% over the next 3 to 5 years.
SEAP has been developed as an intelligent analytics platform, that can ingest data from any existing meter devices, any MDM system of any meter manufacturer. It can also use data from any energy type such as water, electricity or gas. It can also handle any type of data i.e., Meter data, AMR/AMI data, customer data, billing data with an ability to manage any data collection interval even up to 5 -minute data collection.
SEAP can easily handle data from 50 million+ devices, with data volumes of more than 1 million records per minute, while providing high performance analytics on 100 bn+ data records.
The Architecture of the SEAP solution has been built on the backbone of Azure IoT Platform and the analytics engine is powered by the Cortana Analytics suite on Azure. An on-premise version of SEAP can also be designed as per the Utility specific requirements.
About Saviant Consulting
Saviant is the preferred Technology partner for Enterprises across Energy & Utilities, Manufacturing, Transportation and Construction. It is helping businesses grow faster by leveraging Microsoft Cloud, Mobility, Analytics & IoT platforms, with customers from US, Canada, UK, UAE and Aus. Large enterprises, SMBs and start-ups work with Saviant to define their technology road map & implementation strategy, which spans from multi-tenant SaaS applications, Native Mobile Apps, Big Data Analytics, IoT solutions & Azure PaaS Development.
About Microsoft Worldwide Partner Conference 2016
The Microsoft Worldwide Partner Conference (WPC), is being held from July 10 – 14, 2016 in Toronto, Canada at the Metro Toronto Convention Centre. It brings together over 15,000 attendees from around the globe for networking and learning, all with the goal of increasing partner profitability and accelerating business growth.
For more information, please visit Microsoft Worldwide Partner Conference