IoT and Data Analytics Predictions for 2018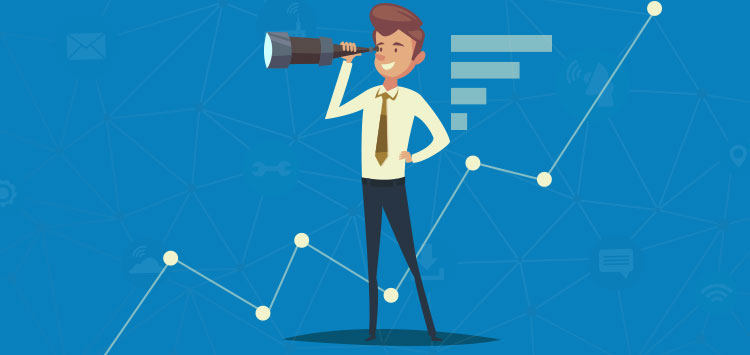 Most Enterprises across all industries are looking forward to deploying IoT and Data Analytics solutions, to embrace digital transformation and create new growth opportunities. Gartner predicts that many businesses will realize the power of IoT that can help them in becoming digital enterprises, while few companies will give up. However, lack of data professionals will restrain 75% of organizations to achieve the full potential of IoT until the year 2020.
Based on analysis by IDC, International Institute for Analytics and New Vantage Partners, Data Analytics market would surpass the $200 Bn mark with the greater amount of investments in the Big Data analytics software, hardware & services and on the data scientists.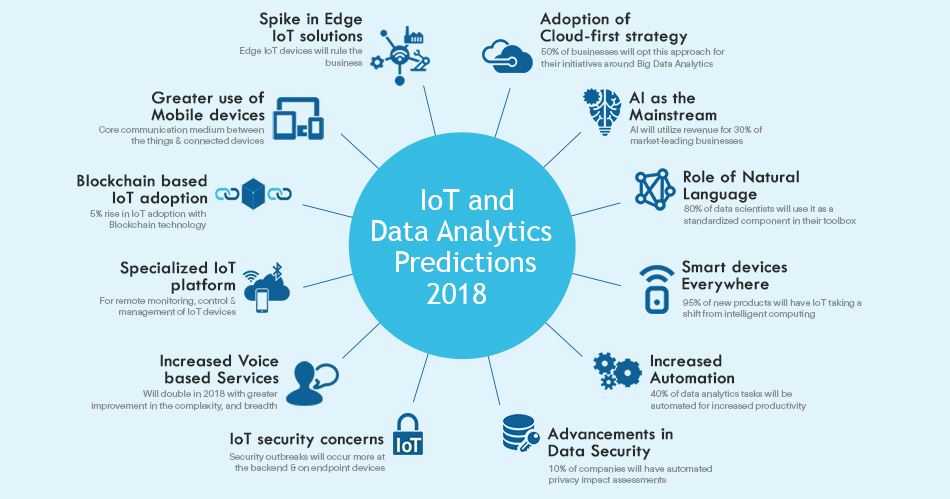 Here are few predictions for Data Analytics in 2018, collated from IDC analysis, Forrester, and Gartner reports.
Adoption of Cloud-first strategy

With the increased collection of Big Data and necessity of advanced analytics, the year 2018 will witness high usage of cloud-based analytics software rather than on-premises software. Reports suggest that more than 50% of businesses will opt cloud-first strategy for their initiatives around big data analytics.

AI as the Mainstream

AI will completely revolutionize the way the organizations work today. Enterprises will take full advantage of Machine Learning to optimize infrastructural behavior, transform business process, and improve the decision-making process. Gartner states that AI is just the starting of the 75-year technological cycle and it will utilize revenue for 30% of market-leading businesses.

Role of Natural Language

According to Gartner, natural language will play a dual role as a source of input for many business applications and for a variety of data visualizations. The operational transformation is necessary to adopt algorithmic business with DNNs (deep neural networks) in the year 2018. This will be a standardized component in the toolbox of more than 80% of data scientists.

Smart devices Everywhere

95% of new products will have IoT, moving from intelligent computing to interacting with humans without a centralized control and command, as predicted by Gartner.

Increased Automation

The study reveals that more than 40% of data analytics tasks will be automated, resulting in increased productivity. Enterprises will spend three times more on real-time analytics in 2018 than on non-real-time analytics by adopting advanced software applications.

Advancements in Data Security

Privacy, security, and identity management will be critical in 2018 and IT leaders will need a strong planning and execution strategy to withstand the forthcoming data security issues. 10% of companies will have automated privacy impact assessments (PIA) process by 2019 and 70% of companies will monitor sensitive data incidents.
Customer Success Story
US based Smart Meter Manufacturer & Service provider goes cutting-edge with Smart Analytics system, which enables Utilities and its customers to take better decisions towards water conservation.
According to Forrester Research, IoT will move from experimentation to Business scale. Here are few predictions for IoT in 2018 as per the report.
Spike in edge IoT solutions

The year 2018 will witness an increase in the number of smart devices and until 2020, there will be nearly 50 billion connected devices. The edge IoT devices and concept of smart data, smart cities, wearables, smart stores, etc., will rule the businesses, taking the advantage of the cloud for immediate data analysis, scalability, security, deployment, configuration, and management.

Greater use of Mobile devices

Mobile devices will become a communication medium between the things and connected devices by end of 2018. Also, 20% of user interactions using smartphones will be via virtual personal assistants. Thereby, gearing up for seamless functioning of business as well as boosting customer engagement also.

Blockchain-based IoT adoption

Forrester predicts that Blockchain based IoT adoption will rise to 5% by 2018. However, it is still not ready for the larger deployments, but the pilot projects have started to emerge, thereby preparing to merge the maturation of IoT with Blockchain technology.

Specialized IoT platform

Enterprises need capabilities for remote monitoring, control & management of IoT devices. They will need the orchestration software that integrates well with their connected things environment and eliminates the manual management of these devices. This demands the need for specialized IoT platforms that best suits their business needs.

Increased Voice Based Services

Voice-based services will likely double in 2018 with greater improvement in the complexity, quality, and breadth of these services. Industries like Financial services will not lag behind if they demand a simple task for an authentication.

IoT security concerns

Time-to-market, cost and customer experience will take precedence over IoT security requirements. More IoT related outbreaks will occur both on the backend and on endpoint devices, making it essential to imbibe strong security controls for successful IoT implementation.
Source: Forrester Research, Gartner Report