Building Device Level Intelligence with Azure IoT Edge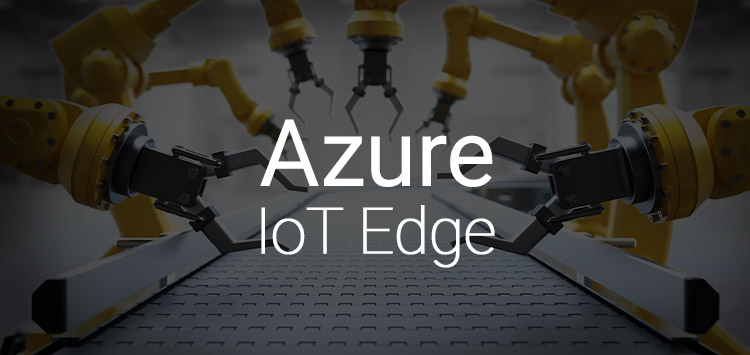 The intense pressure on CIOs & CTOs to innovate and lead in this digital transformational world is increasingly growing by the day. This article discusses how Azure IoT Edge can help Enterprises in deploying cost-effective IoT solutions that drive their new focus.
Why the 'Edge'?
Many research studies have predicted that devices will increasingly become more connected by 2020. More than 1.40 billion data units will be collected to be cleaned, processed, and used for making critical business insights daily. However, this means unparalleled demands on cloud system's current computational power, connectivity, speed, and quality of service. Such data growth will keep stretching the latency required for critical business operations. And, it is the biggest driver of edge computing to provide device intelligence that complements cloud capabilities and reduces data center loads to enable innovative IoT applications.
In short, with Edge:
Get cloud intelligence locally by deploying and running AI, Azure services, and custom logic directly on cross-platform IoT devices.

Your device can respond to emergencies as quickly as possible.

Reduce bandwidth costs by avoiding terabytes of raw data transfer.
But the questions arise:
Can it run complex Machine Learning algorithms?
What is the impact on the overall performance using IoT Edge?
Which is the best platform to choose and how can we evaluate?
Which are the analytical tools that can run on Edge Devices?
What will be the impact on my cost of implementation?
Here's the Answer - Azure IoT Edge
Azure IoT Edge is a fully-managed service that makes it easy to securely extend cloud intelligence to a device. Deploy and run Azure services or custom logic directly on your IoT devices to bring cloud intelligence locally. Running Azure IoT Edge enables developing and deploying IoT solutions that optimize business performance between cloud and edge; while ensuring cloud offline management and security. Building Artificial intelligence & advanced analytics and deploying at the edge to run locally is simple. Edge enables offline operations as well without the need to connect to cloud always. Protocol translation & data normalization is simple with complete privacy of data and protection of IP.
Azure IoT Edge benefits include:
Reduced data latency enabling super-fast operations' responsiveness, since round-trips from device to cloud & cloud to device are no longer necessary.

Enables local storage and reliable offline critical operations using synchronized device twins, even when internet connectivity is disrupted.

Increased data security and compliance capabilities that cannot be otherwise achieved on the cloud.

Ability to process and analyze critical operations on edge devices, which greatly reduces data flow to & fro the cloud and the network, fostering cost-effective IoT solutions.

Easy interoperability between legacy industrial & modern devices; helping them deploy IoT solutions without the need for investing in new and costly equipment.
What are the components of Azure IoT Edge?
Azure IoT edge includes:
IoT Edge runtime allows enterprises to install and update workloads on their devices. It helps ensure that IoT Edge modules stay running and also maintains the required device-level security standards. IoT Edge runtime enables remote monitoring by reporting module health to the cloud and facilitates communication between modules on the IoT Edge device & between the IoT Edge device and the cloud.
IoT Edge Modules are managed by IoT Edge and are the smallest unit of computation. Azure IoT Edge allows enterprises to deploy and manage their business logic on the edge devices in the form of modules. Azure IoT edge modules can contain solution-specific code or Azure services like Azure Machine learning. Four conceptual pieces make up an Azure Edge module; which includes module image, instance, identity and module twin.
IoT Edge Cloud Interface helps in the management of Azure IoT Edge from Azure. This helps in handling the IoT Edge devices and IoT Edge deployments.
Real-world Use Case - Azure IoT Edge Implementation
For a leading Renewable Energy solutions provider, the Azure IoT consulting team is using Azure IoT edge and Azure IoT Hub as a secure, scalable solution for collecting & analyzing WTG data from the sensors on a wind turbine. The solution enables strong foundation to implement Azure Machine Learning, which will help drive high-value predictions of asset and operations' failures. Currently, Azure Stream Analytics and Power BI help for data analysis & visualization to support intelligent decision making. The IoT consultants are also exploring latest opportunities unlocked by Azure IoT Edge, which includes the collection of more WTG data that can serve the vast range of wind farm management and operational needs. Read the story here.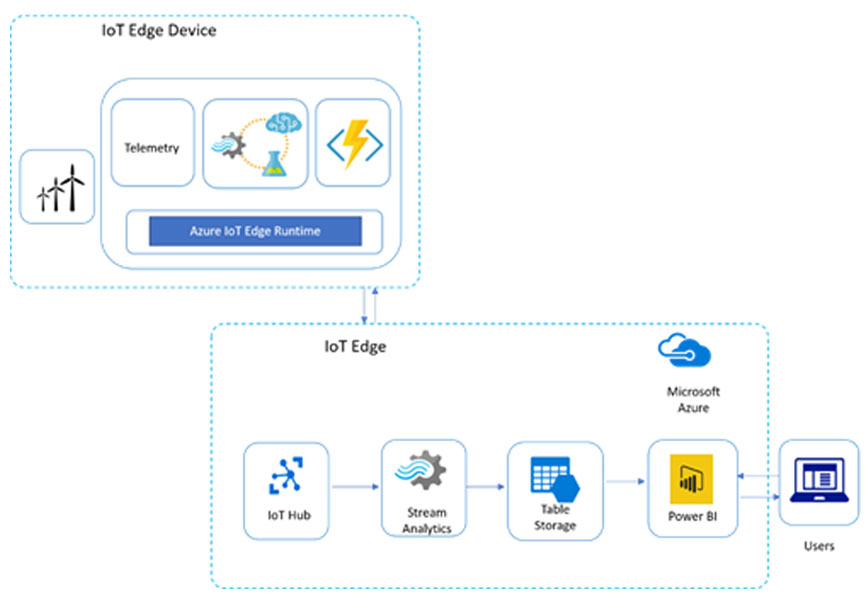 What's new in Azure IoT Edge?
Ever since its launch, many features have been added in Azure IoT Edge; including deep integration with AI, custom vision, SQL Server databases, and tools for a variety of development languages. Azure IoT Edge now supports offline services for IoT devices, although this feature is still under development. Additionally, it has an in-development Azure marketplace for monetization functions on edge devices.
Adopting Azure IoT Edge for Increased Productivity
As more devices get connected, it will become even more crucial to move part of the cloud intelligence to IoT Edge devices for enabling on-device processing and analytics. Azure IoT Edge greatly enhances IoT solutions by empowering businesses to make progress in device-level intelligence for quicker and smarter decisions while reducing costs.