Saviant is now a Microsoft Gold Partner for Data Platform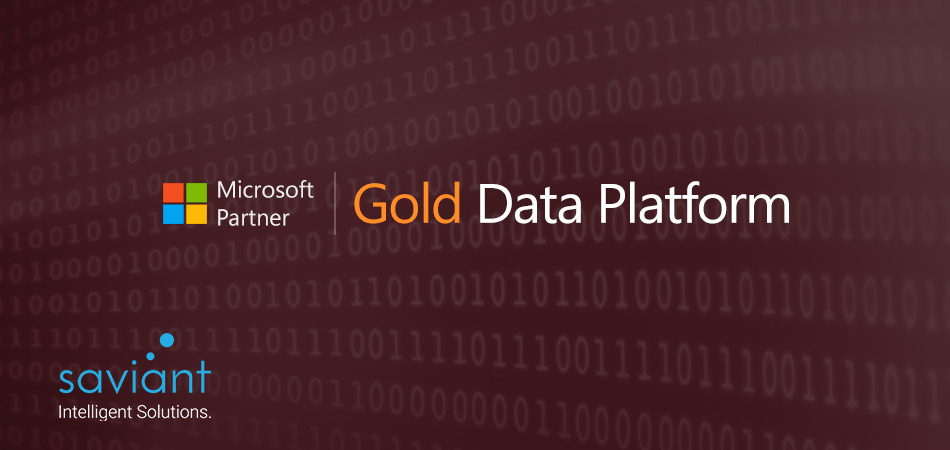 21th March, Pune, India – Saviant, the Digital Transformation partner for Industry leaders, announced that it has achieved the Microsoft Gold Partner competency for Data Platform. This achievement came soon after it has earned the Microsoft Co-Sell Ready partner status through Microsoft One Commercial Partner Program. Saviant has already gained the Gold competency for Cloud Platform back in 2016, followed by Data Analytics and Cloud Application Development competencies in 2017.
Achieving the 'Data Platform' competency proves that Saviant has demonstrated the best-in-class commitment and ability to meet the evolving needs of the customers globally. This competency adds tremendous value to Saviant's existing Advanced analytics expertise and its various other offerings. As a recognized Microsoft Gold partner for Cloud, Data Platform, and Analytics, Saviant is fortified to build transformational solutions for the enterprises worldwide, helping them achieve digital transformation.
To earn a Microsoft Gold Data Platform Competency, Saviant has submitted customer references that demonstrate successful projects in Data Platform. Furthermore, a team of its consultants has completed the necessary trainings & technical assessments for Azure Data Warehouse, SQL Server 2016, Azure Data Services and more, to prove their level of technology expertise, thereby ensuring a required level of capacity.
About Saviant Consulting
Saviant is the preferred Data Analytics & Intelligent Solutions partner for leading Asset-intensive and Field-force driven Enterprises across industries like Energy, Utilities, Logistics & Construction. We are the trusted Technology Advisors and Implementation Partners for their strategic initiatives around Data Analytics, IoT, Cloud & Mobility. Our teams enable intelligent actions & accelerated business outcomes for our customers across the globe, by defining their Technology Roadmap & Implementation Strategies. Saviant is a Microsoft Gold Partner for Cloud Platform, Data Analytics, Application Development & Xamarin Premier Consulting Partner.
About Microsoft Competencies
In the Microsoft Partner Network, partners have the ability to achieve gold competencies and silver competencies which are named based on how customers buy. This provides more opportunity for differentiation for partners, as well as even more opportunity for partners to highlight their specific skill sets and areas of strength. In addition, this naming is more transparent to customers to identify partners' core capabilities and expertise.