Saviant partners with TodoModo Group at POWER-GEN International 2016, USA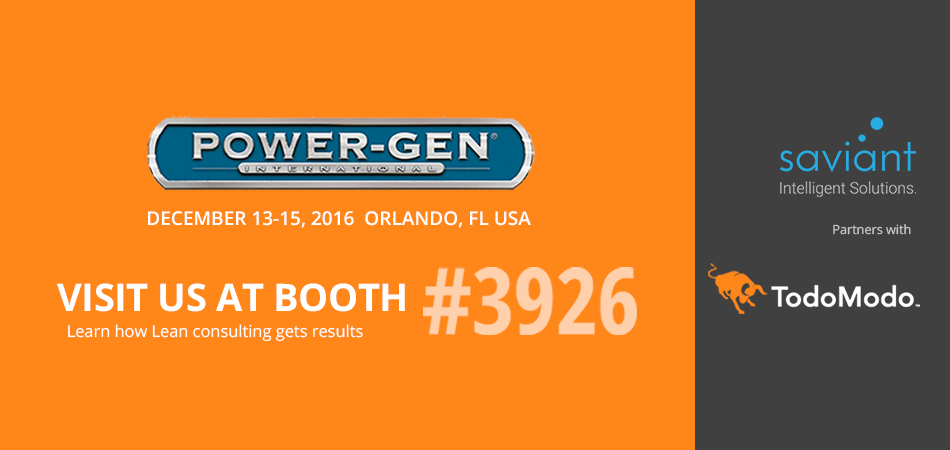 Pune, India, December 9, 2016– Saviant is partnering with TodoModo Group, a Dallas based leader in power generation and energy consulting, at POWER-GEN International in Orlando, Florida, US from 13th-15th Dec, 2016. POWER-GEN International is the world's largest Power Generation event which takes place at Orange County Convention Centre. As part of the three-day event, over 20,000 industry professionals, 1400+ exhibiting companies and 300+ industry speakers come together to learn, network, see and share what's new in power.
Through Wednesday, December 15, 2016, at POWER-GEN International in Orlando, Florida, US. TodoModo Group will showcase how the company can help energy and industrial clients enter the new age of analytics and drive business performance to the next level with Saviant's enterprise solutions at Booth #3926.
About Saviant
Saviant is a Gold Cloud Platform Partner and Global IoT partner of Microsoft. We have pioneered innovative solutions leveraging Cloud, Mobility, Analytics & IoT to help Enterprises transform and modernize their business. We work with various industries to define their technology road map & implementation strategy using multi-tenant SaaS applications, Native Mobile Apps, Big Data Analytics, IoT solutions & Azure PaaS Development.
About TodoModo
Led by a seasoned team of service and equipment industry executives and founded by Luis Manuel Ramírez, TodoModo Group is a truly unique company specializing in business transformations through advisory, portfolio and consulting services for experienced C-Suite executives.
For more information about the event, please visit POWER-GEN International.