Key Lessons from Enterprises working on Azure PaaS
by Melbin Areekuzhi
Many enterprises are adopting Microsoft Azure PaaS for infrastructural and application deployment needs. It provides a platform for building applications, with the essential tools including DBMS, enterprise service buses (ESBs), application servers and many others.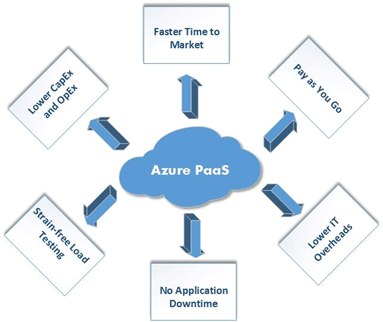 Several enterprises that use Microsoft stack have turned their fortunes by pushing their enterprise apps to the Azure Cloud. The following are some of the important lessons that can be learnt from Enterprises working on Azure PaaS:
CapEX and OpEx can be Low
Azure PaaS provides a readymade development and testing platform to enterprises. Further, Microsoft completely manages this infrastructure in the background. This results in a significantly lower capital expenditure CapEX as well as operational expenditure OpEx, and ensures a higher ROI.
Specific Skills and Experience isn't Mandatory
Configuration, deployment, and ongoing management of applications in the Cloud is automated in Azure PaaS. Enterprises eliminate the need for employing a workforce having specific skillset and experience. This improves both the cost-effectiveness and efficiency of application development and deployment.
Azure PaaS = Lower IT Overhead
With Azure PaaS, enterprises have the freedom of using only as much as they need and on pay-as-you-go basis. They rent computing resources as per their application development and deployment needs. Once the application is deployed, they release these resources, effectively alleviating the need for maintaining any un-needed reserves.
Cutting edge Technology isn't Beyond Reach
Enterprises running Azure PaaS avail the latest platform-level technology at significantly lower costs, which are more advanced than self-built infrastructure. Also, with Azure PaaS, the technology stack is always up-to-date. This means that their developed applications always run on the latest and best out there.
Resource Scaling can be Quick and Affordable
Enterprises running on Azure benefit from auto-scalability. They quickly and easily scale their resource requirements up or down to handle on-demand business needs. Further, with the pay-as-you-go model in Azure PaaS, they are only required to pay for the space or computational power that they use. This results in a considerable cost savings.
Load Testing need not be Strenuous
Load testing leads to a considerable performance degradation and slows down the operation of other applications. Enterprises using Azure PaaS test applications on the Cloud instead of the data centers. This eliminates any possibility of straining the datacenter network bandwidth letting other applications perform as expected.
Less IT management=Faster Time to Market
With Azure PaaS, developers don't need to concern themselves with resource management, system administration, deployment and other such IT overheads. Infrastructure management and maintenance is taken care of behind the scenes by Microsoft. The IT team therefore focuses completely on application development and innovation. This enables enterprises to achieve faster time to market rates.
Application Downtime due to Failure is Avoidable
Microsoft Azure operates through 20 datacenters worldwide. It has multiple redundancies built within. In case one server crashes, the enterprise applications will automatically run on a different server in the same or a different datacenter. Hence, catastrophic events such as datacenter or server failures, will not cause an application downtime, thus ensuring a high degree of reliability.
These lessons go a long way in showing that enterprises working on Azure PaaS clearly have an edge over those that don't. There are many success stories of businesses that have seen phenomenal acceleration through the utilization of Azure Cloud solutions and services. With more powerful features and services being added to this platform on a regular basis, enterprises can surely expect to benefit from Azure migration.